Growth
Growth and learning in the areas of design, business, and life in general, are very important to me. I typically read one hour outside of work each day and get in 30 minutes of daily UI/UX practice and/or studying. Here are some of the areas and ways that I'm emphasizing growth in 2019.
READING
I am a voracious reader, having read over 135 books in the past four years. I make a daily habit of reading because I see it as a key avenue for growth, where I can learn directly from the author and their experiences (like having hundreds of mentors).

Most of the books I read fall into one of three categories: Social Sciences, Autobiographies, and Design. I love to especially dive deep into topics once my interest gets piqued—for instance, this year I've read over 400 pages on designing dashboards and graphs.
Click the image here to see a running list of the books I've read along with their ratings.
A sample dashboard reporting product/market fit that I designed.
"MBA TO UX DESIGN" KEYNOTE
In the fall of 2018, I was afforded the opportunity to give the keynote speech at the annual Design + Business conference at the University of Michigan's Ross School of Business.

My talk, geared towards business school student interested in design and design thinking, touched on my journey from business school and thinking about entrepreneurship to a career in UX and product design.
CEREBRAL STROLLS AT FORDLABS
One of the the practices I've recently kicked off at FordLabs is the concept of Cerebral Strolls. The health, mental, and creative benefits of walks are well documented, and I wanted to combine this with interesting conversations to bring new ideas to the Labs.

Thus, I recently kicked off the concept of Cerebral Strolls, where 2-3 employees are randomly grouped together, and go on one hour walk once per week taking a few conversation starters with them to entice interesting conversations and new ideas. (The jury is still out on how this will affect innovation at FordLabs!)
Cerebral Strolls - A practice that I've kicked off at work in order to spur creativity, stimulate new ideas, and help encourage interesting conversations.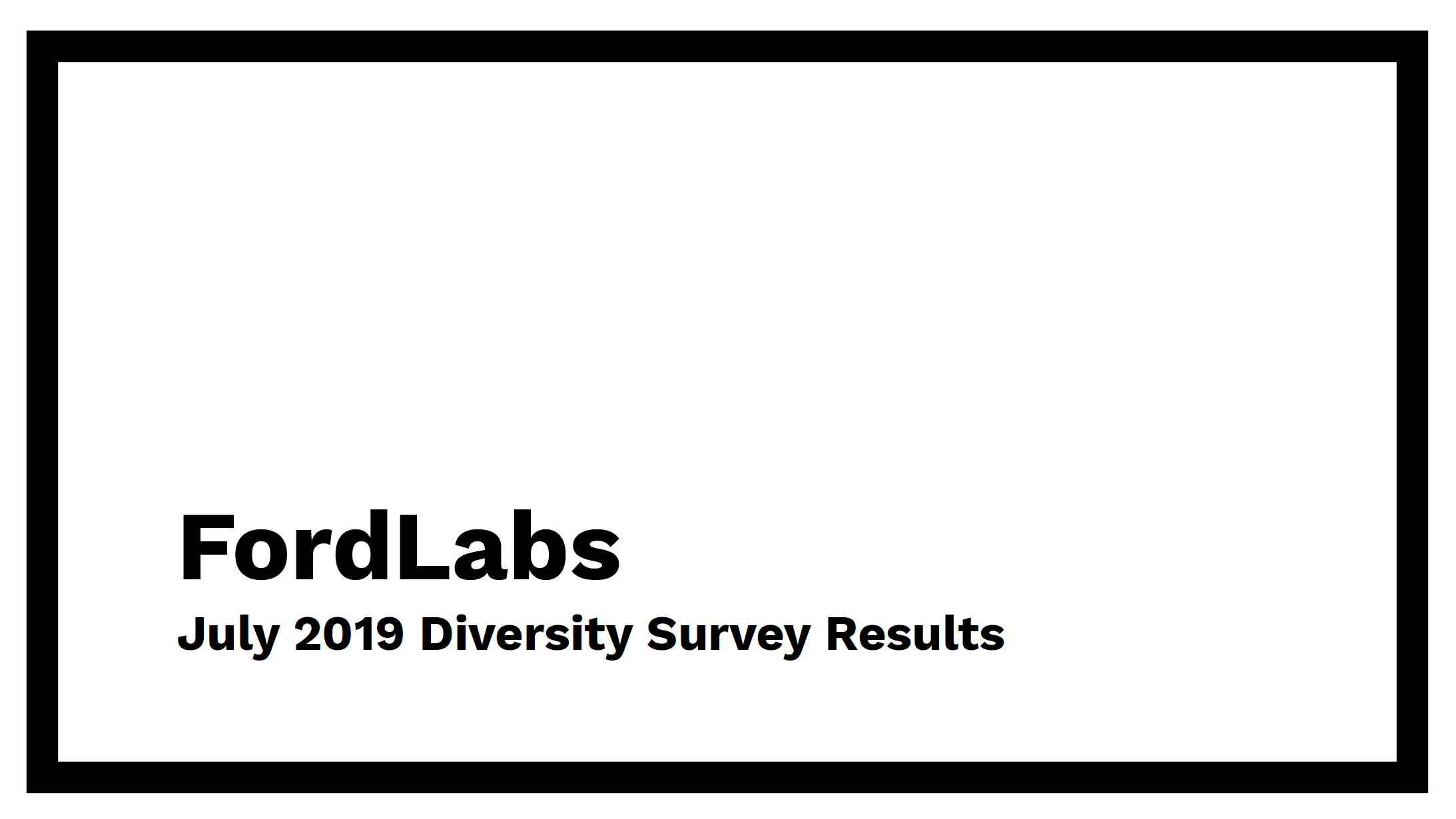 The first project out of the D&I Crew at FordLabs was to understand where our numbers currently sit compared to Ford as a whole as well as other tech companies.
Diversity and inclusion
I'm a strong believer in the benefits of diverse teams and organizations for better outcomes (and workplace culture). Therefore, in June, I started the Diversity and Inclusion Crew at FordLabs (with help from others), with an aim to improve the diversity and inclusion at our ~60 person office.

The initial efforts have been focused on understanding where we currently sit in regards to our current diversity stats and how inclusive our workplace is. Future efforts and planning is now in place for creating a better, more diverse candidate pipeline to the Labs.